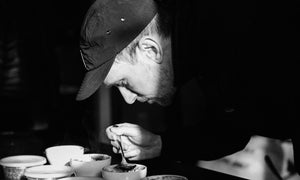 BREW METHODS
---
Pre-soak filter. Add 17g of coffee, ground medium-fine (12 or 13 on Virtuoso) Slowly pour 34g of just-boiled water. Gently swirl, and bloom for :45. Continuing pouring, slowly and circularly...
Seal the plunger into the base and set upside down. Add 17g coffee, ground medium to medium-fine (similar to V60). Pour 40g of water. Swirl briskly to saturate all grind....
Place and pre-soak your Hario 02 filter. Add 28g of coffee, ground medium-fine (around 12 on the Baratza Virtuoso). Make a small divot in the center of the grind. Slowly pour...